Have Been Conned » Outback And Beyond Tui Excursion - NOT a Jungle Safari as shown
Bazza on May 29th 2018
Outback And Beyond Punta Cana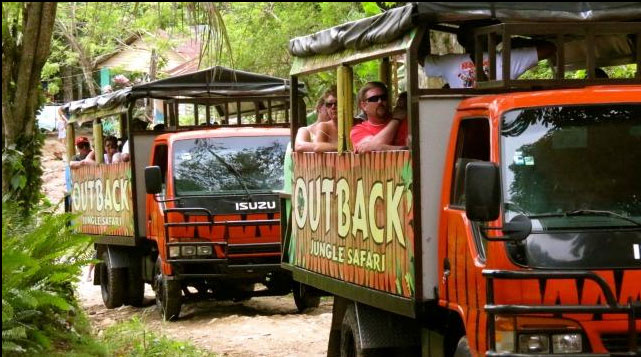 As posted on Tripadvisor:

Don't be fooled this is NOT a safari
You start off by stopping next to a school no option to get off etc then you stop 50 yards or so down the road where they get all the outback merchandise out for you to purchase
Then you visit a few plantations with options to purchase then stop for lunch then go to beach for 40 minutes then get back an hour earlier than what you are told
No off-road or forest experience like a SAFARI should be
The tui rep said it says outback safari but they can call it what they like so thanks to tui we don't get the experience we wanted for our daughters - who wanted to go back to hotel by 11.30 as they were quite fed up

email sent to TUI on 23rd May:
hi I am Writing in complaint to an excursion we did - outback jungle safari a.k.a outback and beyond
initially we was told it would be $342 but were charged $350
the trip was on 18th May and was advertised as a jungle safari - see attached jpg image

We were also told the trip was 9am-5pm
we arrived back at our hotel approx 3.40pm

there was no jungle safari involved just a few stops to plantations *on the main roads* and lots of opportunities to purchase merchandise, from the safari people and the places we stopped

we felt the trip was very misleading and was misrepresented and would like to be refunded as we were very disappointed and this was something we would have avoided if we had known it was not a safari, we feel that we also lost a day from our holiday as it was wasted on this trip

We spoke to Marcin the tui rep there and he said "we can call it what we like" which really annoyed me about the way he handled the complaint

Emmanuel was another rep who said he would contact the office but 2 days later he said he hadnt

i look forward to your prompt reply

regards
Barry

still no reply from
aftertravelcustomersupport@tui.co.uk
Bazza on May 30th 2018 ·
Tui reply 30th May

Thank you for taking the time to contact us about your holiday experience on 09th May of 2018 to Punta Cana.

We are concerned when a customer has cause to complain and we are apologetic that you were disappointed on this occasion.

I was really sorry to hear that on this occasion you felt the excursion that you booked through your Holiday Advisor didn't meet your expectations. Further in my investigation I found that, you had been given the brochure of the excursion and full itinerary of the excursion.

The feedback we get from our customers does suggest that the excursions and trips we offer are regarded as one of the very best elements of our holidays. So we are really disappointed that you have found any cause for complaint on this occasion. Your comment regarding the excursion is a concern to us. Please be assured that I will send your feedback to the relevant team to improve the quality of service. We do explain in our excursion literature that most excursions are contracted by third-party suppliers and we act only in the capacity of an agent.

I can understand that you've felt disappointed on this occasion, and would like to reassure you that all customer feedback we receive is monitored and shared with our relevant teams, both overseas and in the UK, in order for considerations and improvements to be made.

Finally, may I thank you once more for getting in touch and for sharing your experience with us. I do hope you will still consider TUI & First Choice when making future travel arrangements so we have the opportunity to restore your faith in us once more.

Customer Contact Advisor
TUI Customer Contact Team
Bazza on May 30th 2018 ·
response from the outback team in Punta Cana:

You booked your tour via your TUI representative and we are sorry to hear that we did not meet your expectations. We have contacted already the Tour operator to reinforce a sales training, since it seems that you have not been given the correct information.

There is no real jungle here in Punta Cana.

We would like to invite you on your next stay to book any of our tours directly with our guest service online to find the best tour that fits your needs and wishes of an island trip.

We do value your comments and try to constantly improve the experience for our guests.
Your Outback Adventure Team.
First < 1 > Last